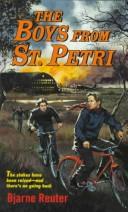 The Boys from St. Petri
It is 1942, and Germany has occupied Denmark. A group of teenage boys dare to do what their elders have not—show resistance to their Nazi invaders. At first just childish pranks, the boys' tactics become deadly earnest and increasingly dangerous.
Age: Older
Format: Book
ISBN: 9780525451211
Notes
Published by Dutton Children's Books. Originally published in Danish in 1994 "Drengene fra Sankt Petri."
---